An implantable cardioverter-defibrillator (ICD) is a small electronic device that is placed inside the body, usually in the chest area, to continuously monitor and regulate the heart's rhythm. It is primarily used to treat life-threatening heart rhythm disorders called ventricular arrhythmias, which can cause the heart to beat too fast (ventricular tachycardia) or irregularly (ventricular fibrillation).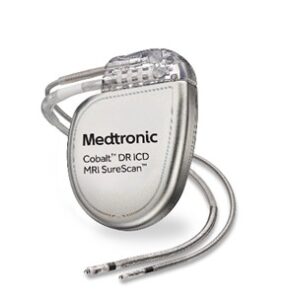 The ICD consists of a pulse generator and one or more leads. The pulse generator contains a battery and circuitry that constantly monitors the heart's electrical activity. The leads are thin insulated wires that are threaded through blood vessels into the heart and are responsible for sensing the heart's electrical signals and delivering electrical shocks or pacing pulses when necessary.
The ICD operates in two main modes: monitoring and therapy. In the monitoring mode, it continuously monitors the heart's rhythm and records any abnormal electrical activity. If it detects a potentially life-threatening arrhythmia, it can deliver a low-energy electrical shock, known as defibrillation, to restore a normal rhythm. The shock is delivered through the leads and is intended to stop the dangerous arrhythmia and allow the heart to resume a regular rhythm.
In addition to defibrillation, the ICD can also function as a pacemaker, delivering low-energy pacing pulses to regulate the heart rate if it detects a slow or irregular rhythm that does not require defibrillation. This feature helps ensure that the heart maintains a steady and adequate blood flow.
ICDs are typically recommended for individuals who have survived cardiac arrest, have experienced certain types of dangerous arrhythmias, or are at high risk of sudden cardiac death due to underlying heart conditions. They are implanted by a minor surgical procedure, usually under local anaesthesia. Once implanted, the ICD is programmed by a healthcare professional to suit the individual's specific needs and can be monitored and adjusted during regular check-up appointments.
It's important to note that the information provided here is a general overview, and specific details about the ICD and its indications may vary based on the manufacturer, advancements in technology, and individual patient considerations. If you or someone you know requires an ICD, it's best to consult with a qualified healthcare professional who can provide accurate and personalized information based on the latest medical guidelines and practices.
Dr. Rahul D Sawant
MD.MRCP.CCT Cardiology UK, FACC
CEO Hridaymitra Cardia Clinic.